How to Use Basic Audio Controls for the Honda Clarity

The new Honda Clarity at The New Babylon Honda comes with Apple CarPlay™, but how does it work? Whether you are driving through Lindenhurst on a relaxing Saturday or trying to get to your Bay Shore job, listen to your favorite music with a little help from The New Babylon Honda.
Using Your Audio Controls
Your Honda vehicle makes it easy to hear the sounds you want while you're on the road. The audio system operates when the power is either in the "accessory" or "on" position. If your vehicle has this touchscreen-equipped display audio, turn it on by touching the power icon at the top left of the screen. Press the audio tap to display the current audio information. To choose from among all the audio sources, press the source button. We'll listen to 89.1 on the FM band.
Once we've touched FM from the source list, we can use the right-left tune icons to find 89.1. And once there, we can assign it a preset by touching and holding the desired preset icon on the screen until it beeps. This system allows up to 6 AM and 12 FM presets. Select models are capable of receiving Sirius XM radio as well, complimentary for the first three months of ownership. Use the same procedure as above to set up to 12 Sirius XM presets.
Depending on the audio source chosen, the controls at the bottom of the screen will change for that particular source. As you can see, the controls change when playing Bluetooth Audio from a smartphone. If you then choose USB as the new audio source with a USB flash drive with music on it inserted into the 1.0 amp USB port next to the 1.5 amp smartphone port, you can see the controls at the bottom change again.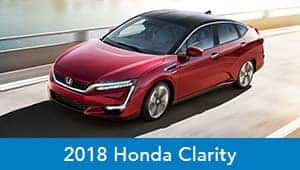 Stop by The New Babylon Honda to Try It Out!
For more information on the Honda Clarity, stop by The New Babylon Honda and test drive one for yourself! Additionally, be sure to check out other advanced Honda technology like Honda Sensing to get a better idea of all that a Honda model has to offer.